Let's MPOWR Our Community Together
MPOWR Community's powerful suite of features can meet your mission critical engagement, case management, collaboration, and data needs. Whether you are simply looking for a better way to manage your organization and engage with your participants, or you already have a database platform you need to use, MPOWR Community has a solution.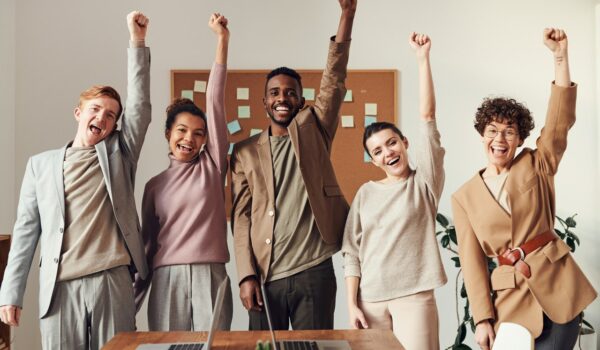 Core building blocks to MPOWR Community include…
Not Just Another Social Network
Enable comprehensive inter-organization and community member engagement with an integrated, social network-like experience – connection made easy!
Create a home page with organization details, contact info, and a real-time news feed complete with posts and events
Share posts and events with social networks you already use
"Connect" with other local organizations to facilitate collaboration and communication
Integrated chat-style messaging between one or more users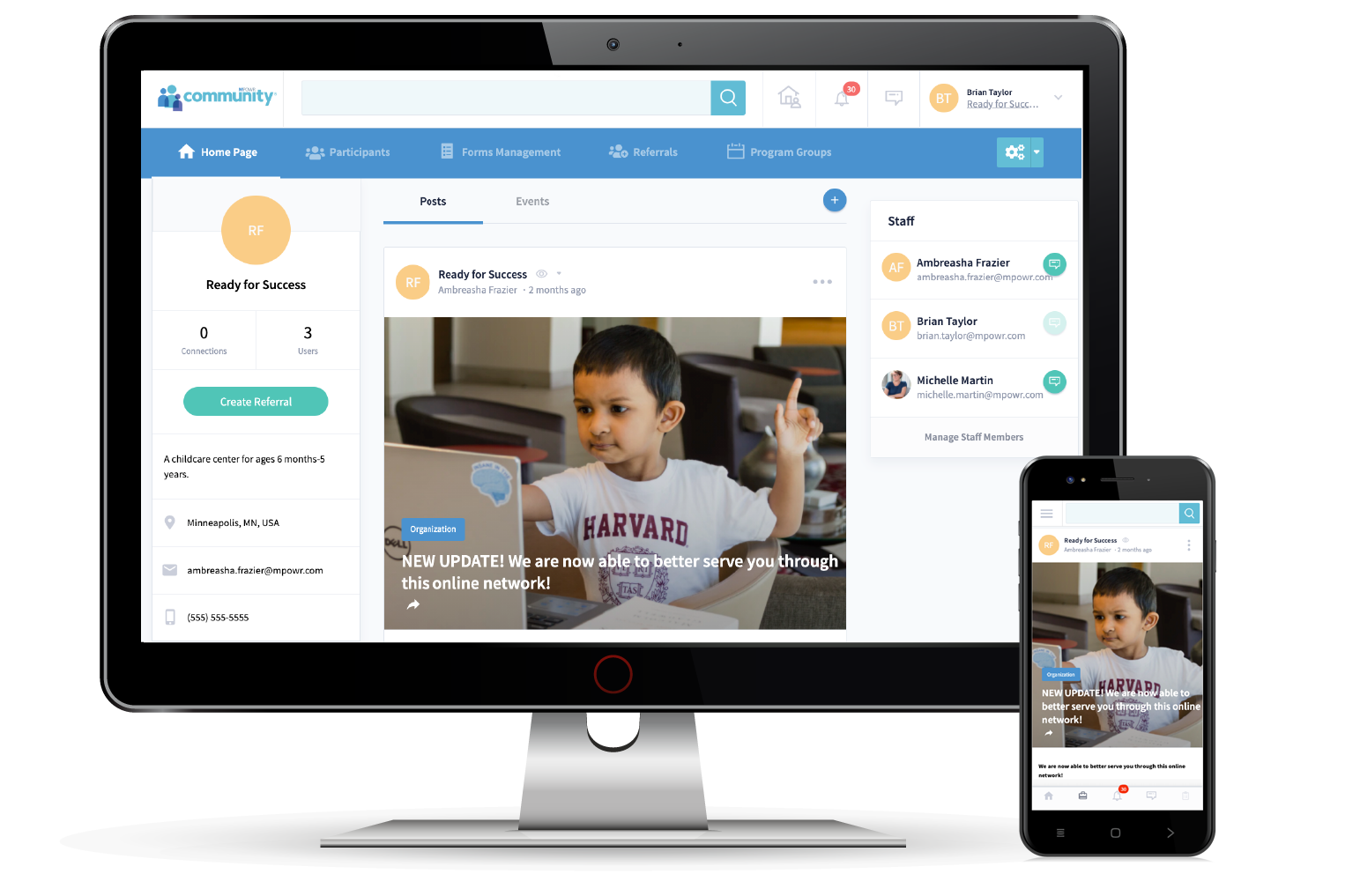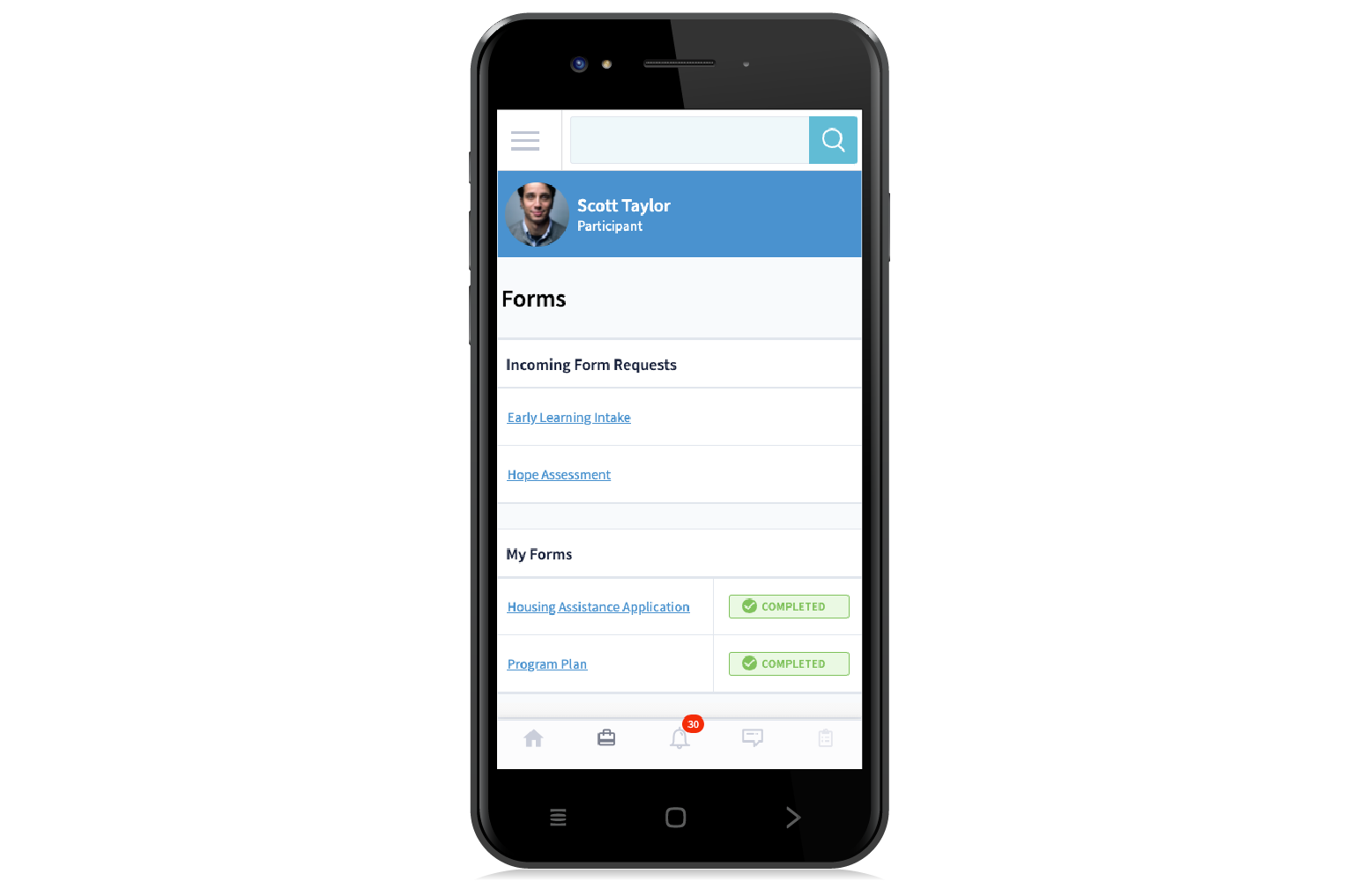 MPOWR-ed Engagement with Community Members
Invite participants to create a free account and take ownership of their engagement. In a community with a full collaboration of organizations, participants have a more seamless, integrated experience managing enrollments, communication, and paperwork across programs.
Participants complete an asset-based, vision-centered profile and manage information sharing with community organizations
Maintaining account information is simple with an intuitive, mobile-friendly, online portal
Program paperwork made easy! The Community Member Hub organizes a participant's "to-do" items (event invitations, paperwork requests, etc.) integrated across any engaged organization
Communicate with participants and exchange files directly through the internal messaging system
Send participants electronic forms to complete, including legally binding digital signature capture
Easily Manage Participant Information
Add and manage participants and household information, and track their data through a centralized interface.
Search, sort, and filter participant records with a flexible search system
Create and save custom filters to quickly display and work with groups of participants based on information unique to their profile
Manage all participant engagement and case management data (i.e. activities and notes) together in the Participant Portfolio
Get the big picture with up-to-date status', to-do's, and actionable insights in the Participant Snapshot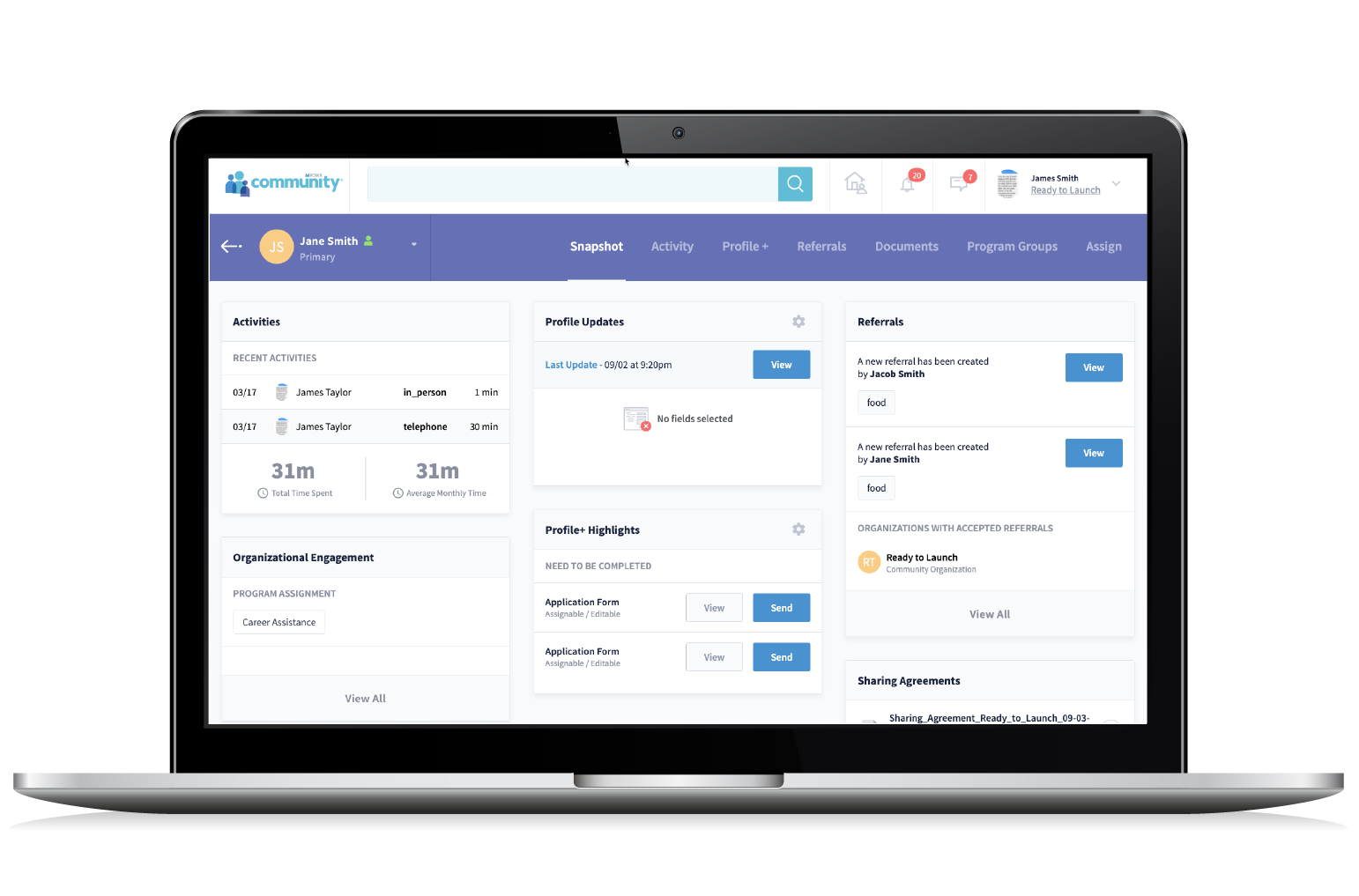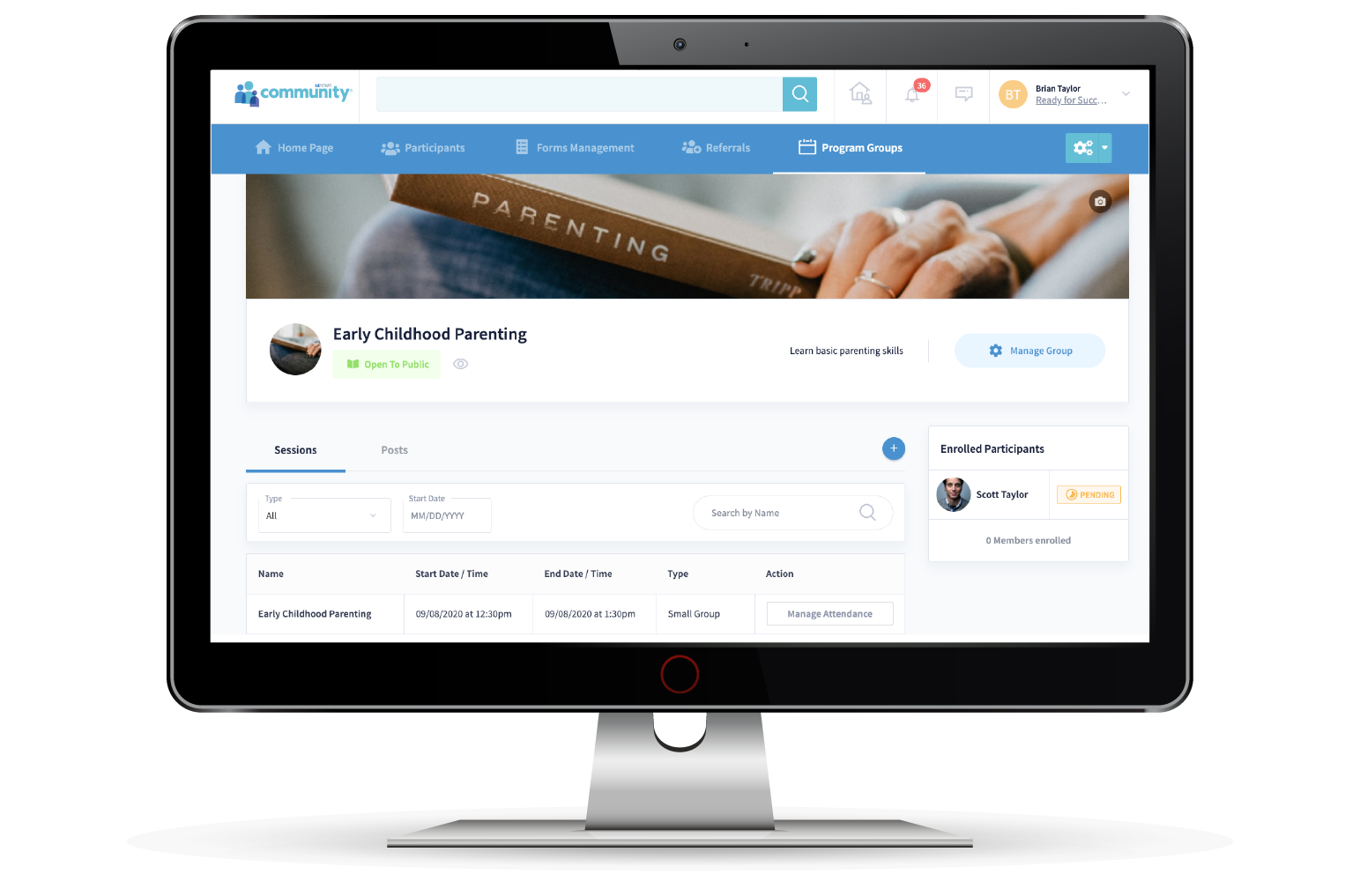 Program Groups
Manage and track participation in classes or structured programs in your organization.
Create single or multi-session classes, workshops, or program groups to meet your organization's mission
Configure group session options such as date, time, recurrence, or meeting location – physical address or virtual conference link
Enroll participants and track session attendance
Manage communication with enrolled participants through group home page posts and activity feed
Powerful Form Builder
Your data collection needs are as unique as your organization. MPOWR Community's powerful, drag-and-drop form builder enables you to create the virtual paperwork you need to collect, store, or download data entered either directly by connected  participants or by organization staff.
Choose from 7 common field types and build forms to collect information not facilitated through the participant profile, create assessments, goals, and more
Group related fields together and create conditional field logic to enable specific data collection workflows
Create comprehensive forms with 13 additional advanced field types including a legally binding electronic signature
When participants have accounts, both the individual and the organization have instant, organized e-records of the form data exchange
Form data can be exported for integrating with other systems. If you have other databases, use Community to virtually collect information directly from participants and store in the systems you are already using
Track changes in form data over time, share form designs with connected organizations, and print physical copies for your records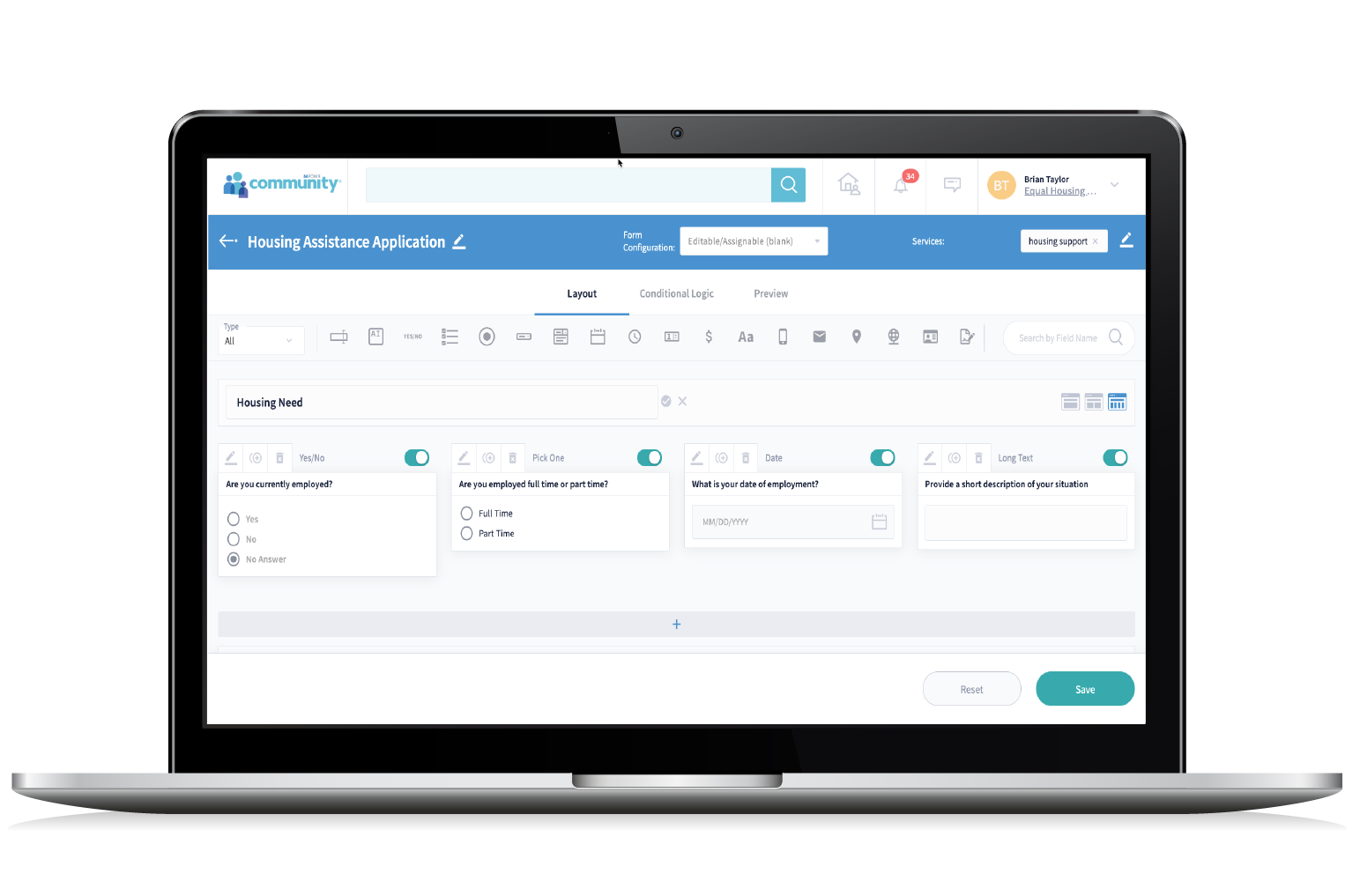 What else you should know…
Search & Referral
You are part of a larger community. Participants and organization users search the community directory by organization name and services keywords. Create, send, and receive participant referrals across the network.
Program & Team Management
Organize users into programs, departments, and teams. Manage program group and participant assignments and incoming referral routing workflows based on configured teams.
Facilitate Collaboration
We are better together. Backbone and lead organizations can facilitate meaningful change in their communities through collaborative program and peer networking groups. (Coming Soon)
Virtual Invitations Help Grow your Community
The platform includes customizable invitations to support participant adoption and to share the benefits of MPOWR Community with other organizations.
Support & Services
Our engagement team has deep social sector experience. They will work with you to support implementation, system adoption, and establish peer learning and networking opportunities.
Information Security
We take our responsibility and your trust in us seriously. MPOWR's comprehensive information security management program is independently verified by 3rd party auditors, and designed to continuously assesses risks and improve the security, confidentiality, integrity, and availability of the service. Learn More >